Staying hydrated in the summer seems straightforward enough. Just drink more water, and all that sweating will have you craving cold beverages all the time.
But it's not just any beverage that will regulate your body temperature, flush out all the toxins, and give your skin that radiant glow. You have to actually be drinking more water to stay hydrated, and no, iced coffee and fruit smoothies don't count in your recommended daily water intake, which is about 8 to 10 glasses, in case you weren't sure. Iced coffee and fruit smoothies might quench your thirst, but they don't exactly offer the hydration your body needs.
Now, we don't expect you to kick your morning Starbucks habit. We simply want you to make it easier for you to drink your nine glasses of water a day. Water is a boring beverage, so we understand the struggle.
Here are a few ways to make sure you drink enough water throughout the day: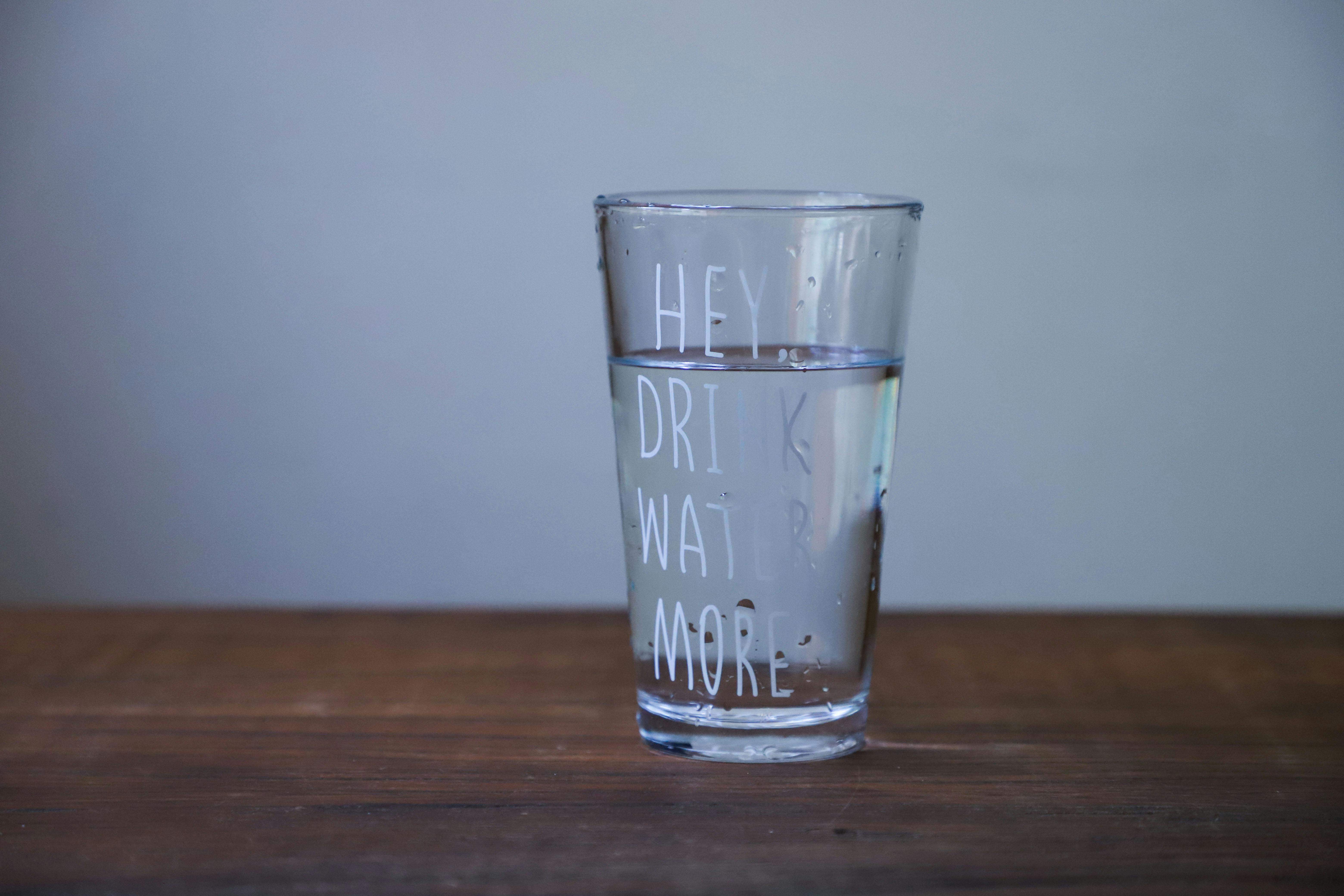 1.Treat yourself to a nice, reusable water bottle
Water can seem so unappealing sometimes, but if it came in an interesting vessel, you'd probably sipping out of it more often. It's all about tricking your mind into drinking more water, so you might as well but yourself a nice water bottle that will reaching for it every 15 minutes and using it as a conversation piece when you're waiting in line for a refill.
2. Mark your water bottle with time goals
If you're the type who needs to track their progress or someone who tends to get so busy in the day that something as simple as drinking water falls off their radar, then this method should work. Grab a large water bottle and make marks from the top to the bottom. Let those represent time blocks throughout the work day so that you know how much water you're supposed to consume by lunch. It's almost like you're competing with yourself to reach your target (and possibly even exceed it) on a daily basis.
3. Infuse your water
It's hard to stick with just water, especially if you enjoy having a couple cups of coffee in the morning, order lemonade during lunch and buy some milk tea during your afternoon break. One way to excite your taste buds is by making better tasting water, AKA infused water. You can use berries for fruity water, or go with lemon or limes to make it seem like you're in a restaurant. You can even make infused waters that are said to have detoxifying effects and boost metabolism, such as strawberry basil water and lemon mint water. And if you're feeling fancy, you could even infuse sparkling water.
4. Drink herbal tea in the evening
Having herbal tea after dinner and before going to bed is quite soothing, as it allows you to relieve your stress before calling it a night. It also gives you another cup for your total count of the day, and gives you a bit of hydration before you go to sleep.
5. Eat more melons
There are lots of fruits and veggies out there that have hydration levels that are comparable and even exceed those of water, melons being among the best of the bunch. Melons are great snacks for picnics, pool parties and beach days, with a natural sweetness that makes it taste much better than plain old water. Also, it's packed with a bunch of nutrients that will help you stay healthy. You can turn your melons into smoothies as well, though you have to make sure the melons are really sweet so you don't have to add any sugar.
6. Drink a cold glass of water whenever you feel sluggish
Most of the time, caffeine is our answer whenever we start to feel sleepy in the office. While coffee is great as a pick-me-up, so is water. Drinking cold water can actually get you out of that midday slump, as some studies indicate that participants felt more alert after having a glass of cold water.
7. Drink coconut water
If you need something else to quench your thirst that doesn't taste as boring as plain water, grab coconut water. Loaded with electrolytes, it's perfect on extra sweaty days, but don't use coconut water as a complete replacement for drinking water.
8. Drink a glass of water for every cup of coffee or glass of booze
Coffee and alcohol are diuretics, which means that they make you lose more liquid than you actually consume. The best thing to do to avoid getting dehydrated in the day or on a night out with friends is alternating between those beverages and a glass of water. You'll still need to be going to the bathroom a lot, but at least you won't be losing out on hydration with all that water you're consuming on top of the alcohol or coffee.
Sheena is the lead fashion writer here at Pretty Me Philippines and has contributed articles for numerous lifestyle blogs and online publications. Other than keeping up with the latest trends, she loves baking and home DIY projects.