The summer can be a tough time for full coverage makeup girls. Between beach trips and poolside chill sessions, making makeup last through the sweat and water seems to be an uphill battle.
Some people don't mind being makeup-less at the pool, while others just feel more comfortable with their dark circles and blemishes covered up. Either way, there is no judgment, but if you're wondering how to prevent your mascara from running or your foundation from melting off, here are a few tips to ensure your makeup lasts through the splashes.

Makeup Tip #1: Go for a Matte Primer
The very first step into making sure your makeup won't come off is primer, specifically a mattefying one as it helps to lock in your foundation. If you don't want to go for the traditional cream or liquid primer, try this Pond's BB Magic Powder. Not only does it have the matte and pore-filling effect, but it also has oil control and SPF protection, so it works as an awesome base for water resistant makeup. It's made for all skin types, though it's especially effective for oilier complexions.
Makeup Tip #2: Don't Skip on the SPF
With the exception of the BB Powder above and some BB and CC creams, not all primers have SPF in their formula. If the foundation you have does have sunscreen, then you're covered; otherwise, mix some sunscreen with your liquid foundation for a lighter, dewy finish without looking oily, creating something almost like a tinted moisturizer. If you're going to use a powder foundation, put on a layer of sunscreen and let it settle into your skin before powdering.
Makeup Tip #3: Use Wax-based Eyeshadow Sticks
If you want to have some fun with your makeup with a pop of color, go for eyeshadow crayons. Since they're made with wax, they definitely won't wash away after jumping into the water.
There are plenty of ways to play with these colorful sticks. You can either line your lower lash lines, blend out different colors on your lids, or simply go for a pop of color on your inner corners.
Makeup Tip #4: Choose Waterproof Mascara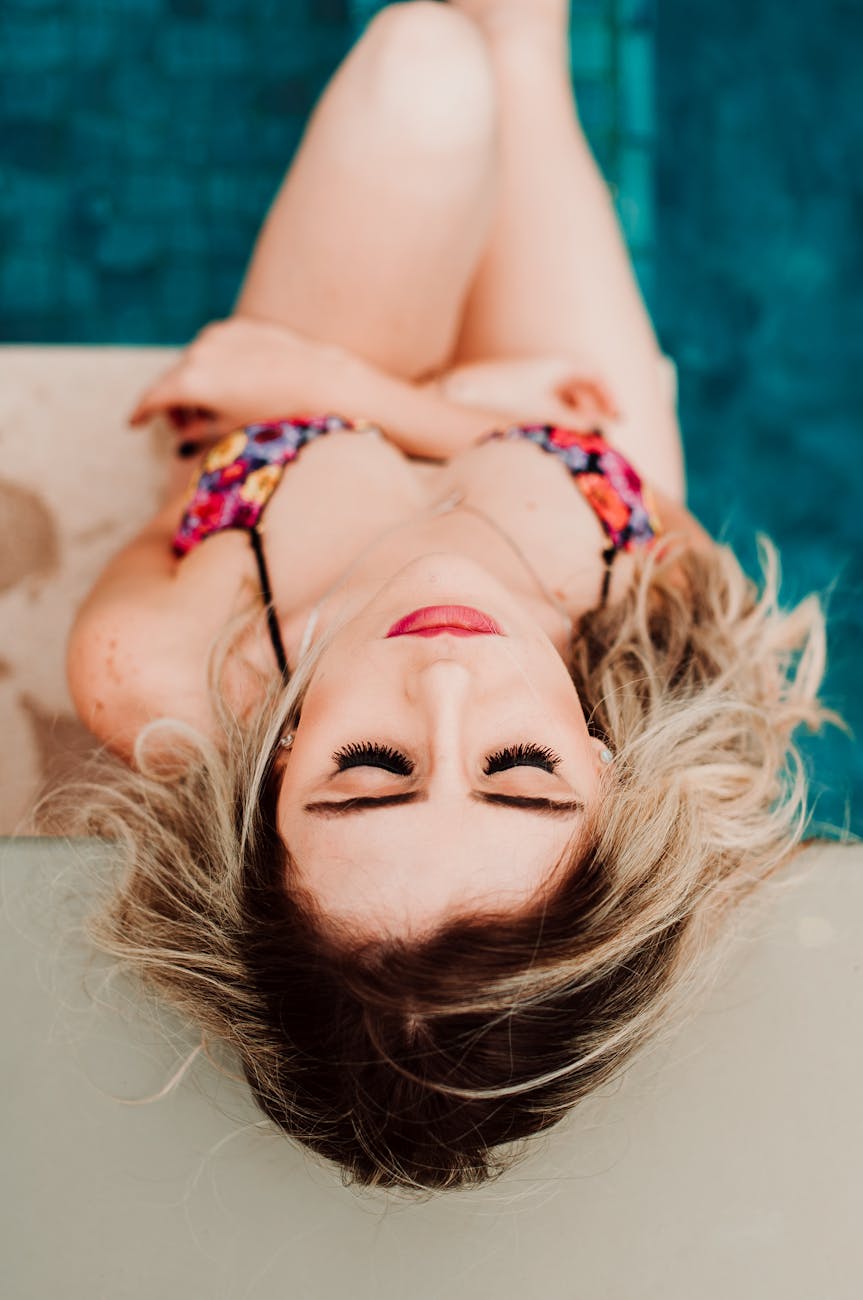 This is a pretty obvious one, since raccoon eyes aren't a good look on anyone. If you insist on wearing eyeliner as well, it goes without saying that you pick a waterproof one, although I do suggest that you save the eyeliner for evening pool parties since it seems more fitting for a nighttime look. Mascara is great for both day and night looks, as it really opens up your eyes.
Makeup Tip #5: For Brows, Opt for Smudge-proof Pencils
Whether you're doing a full face or no-makeup makeup, no look is complete without brows. Rather than just using your regular eyebrow pencil or gel, use a smudge-proof pencil so that your brows survive some splashing about in the water. Some brow pomades can survive some sweating, though you might want to be careful when patting your face down after a couple laps in the pool.
If you have been blessed with full brows, there's no need to fill them out with a pencil or pomade. Instead, go for waterproof clear mascara gel to keep the hairs in place. You also have the option to use hairspray. Just spritz some on your brow brush and them comb them out for a feathered look.
Makeup Tip #6: Use a lip and cheek tint
Highlighter might be great for giving that glow, but all that shimmer is just going to end up spreading all over as you sweat in the sun or swim a few laps in the pool. Swap highlighter with a cheek and lip stain that will sink into your skin and won't smudge away. This Organic Lip and Cheek Tint will give you that perfect natural flush and lip color for that sun-kissed rosiness.
Makeup Tip #7: Finish with Setting Spray
And finally, finish with some setting spray just as an extra guard against the water and humidity. Setting spray is the key to making every product withstand the sweat, but feel free to skip this step if you decide to forgo foundation and concealer.
---
Items mentioned in this post:
Sheena is the lead fashion writer here at Pretty Me Philippines and has contributed articles for numerous lifestyle blogs and online publications. Other than keeping up with the latest trends, she loves baking and home DIY projects.