The secret to glowing skin is not just about what products you use or staying out of the sun. In fact, it's also about what you consume. You are what you eat, after all.
If your face wash, serum, scrub and toner aren't cutting it, you might want to take a good look at your diet. Did you know that fruits can help you achieve glowing skin?
What's awesome about these fruits is how versatile they are. You can slice them up and include them in your oatmeal or cereal, have them as an afternoon snack instead of chips, or add them when you're baking your homemade muffins. If you aren't very disciplined about eating, there's always the option of juicing them or blending mixed fruits into a smoothie. See? The options are endless!
Let's not forget, because these fruits have skincare benefits, you can also apply them into your beauty routine! All you have to do is mash them and apply the mashed fruit as a mask, then wash it off with cold water after 10 minutes or so. You can learn more about DIY fruit face makes on Style Craze, but for now, let's take a look at all the wonderful things that fruits can do for your complexion.
1. Apples
Apples are rich in Vitamin A & C, while the peel is said to have antioxidant properties. Generally, apples are good for your health, but focusing on skin specifically, these fruits have malic acid. Malic acid renews skin cells for firmer, youthful skin without damaging your skin. It's used the same way as glycolic and salicylic acid in skincare products, with malic acid being gentler to the skin compared to the other two.
2. Avocados
Avocados are one of the healthiest foods out there, which is why it's referred to as a superfood. In terms of skincare, avocados contain Vitamin B7, or biotin, which promotes cell growth and regeneration. It's included in hair and nail growth supplements, as it speeds up growth.
Avocados also contain Vitamin E, which acts as an antioxidant for skin but also heals scars and moisturizes your skin.
Lastly, the fatty acids of avocados offer natural lubrication that's great for your skin.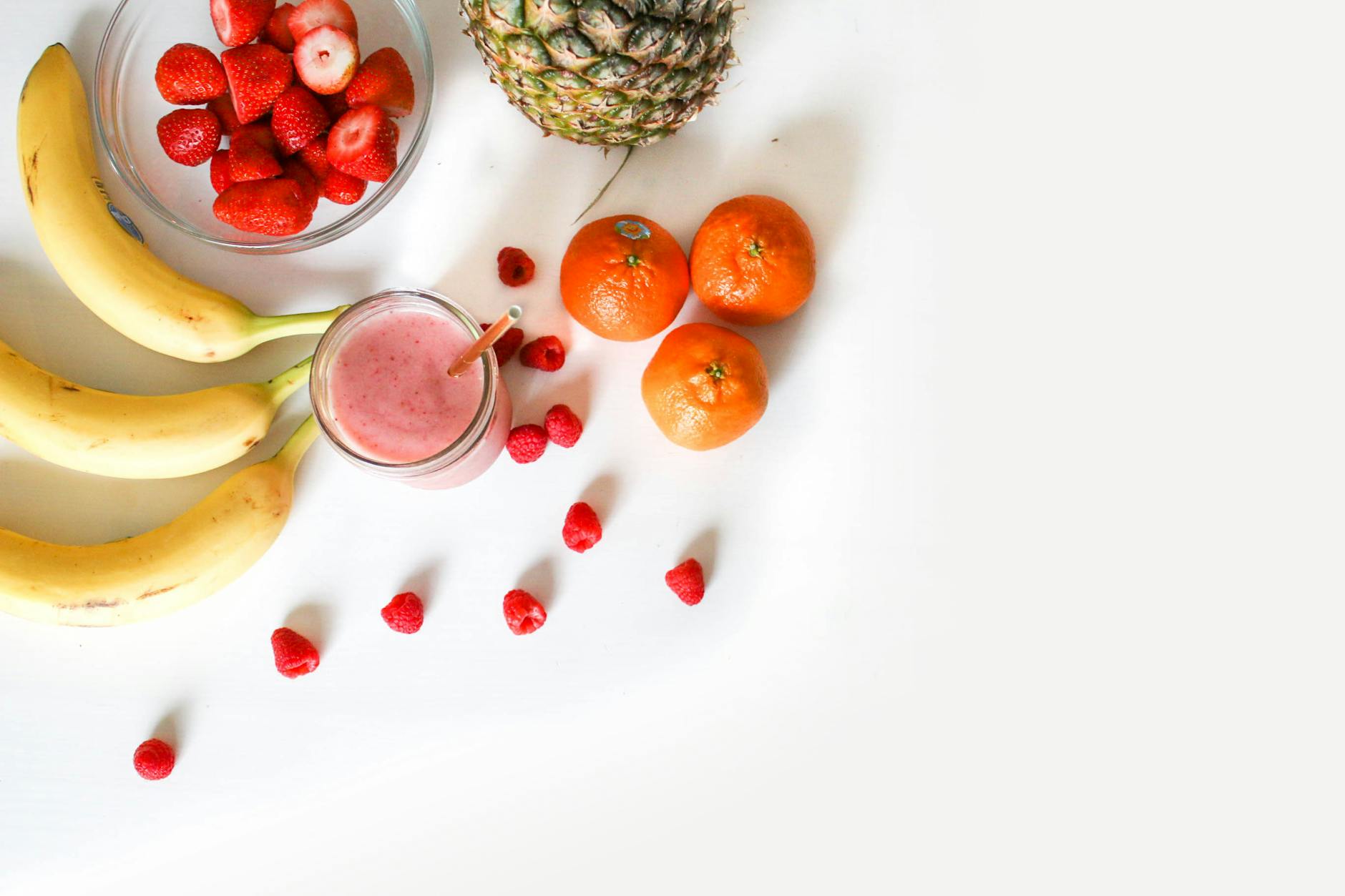 3. Bananas
Bananas have a ton of skin healing properties, such as Vitamins A, B, C, K and E, which all keep your skin healthy by rejuvenating your skin, fading dark spots, and preventing premature aging. Plus, bananas are full of potassium, which hydrates your skin to keep it soft and supple.
It's not just the banana itself that's good for your skin, as the peel is actually really helpful in getting rid of acne scars.

4. Grapes
Sunscreen protects your skin from harmful rays, but did you know that grapes can too? All grapes have an antioxidant called resveratrol, which like sunblock, protects your skin from skin cancer and UV damage. They also have a bunch of vitamins and minerals that are generally good for your complexion.
5. Kiwis
Did you know that kiwis are more densely packed with Vitamin C than most citrus fruits? Crazy, but true. Vitamin C, or ascorbic acid, is commonly known for its effects on your immune system, but it also has a ton of benefits for your skin, such as brightening and keeping it young.
6. Lemons
Lemons are famous for being natural skin lighteners because of all the Vitamin C, so if you have any acne scars or blemishes that need some fading, lemons are the way to go. They'regreat for unclogging pores, too.
7. Mangoes
Mangoes are filled with a mix of vitamins and minerals, which combined help to protect your skin DNA damage and inflammation. They also have wound healing properties that are often used in skin butters and creams.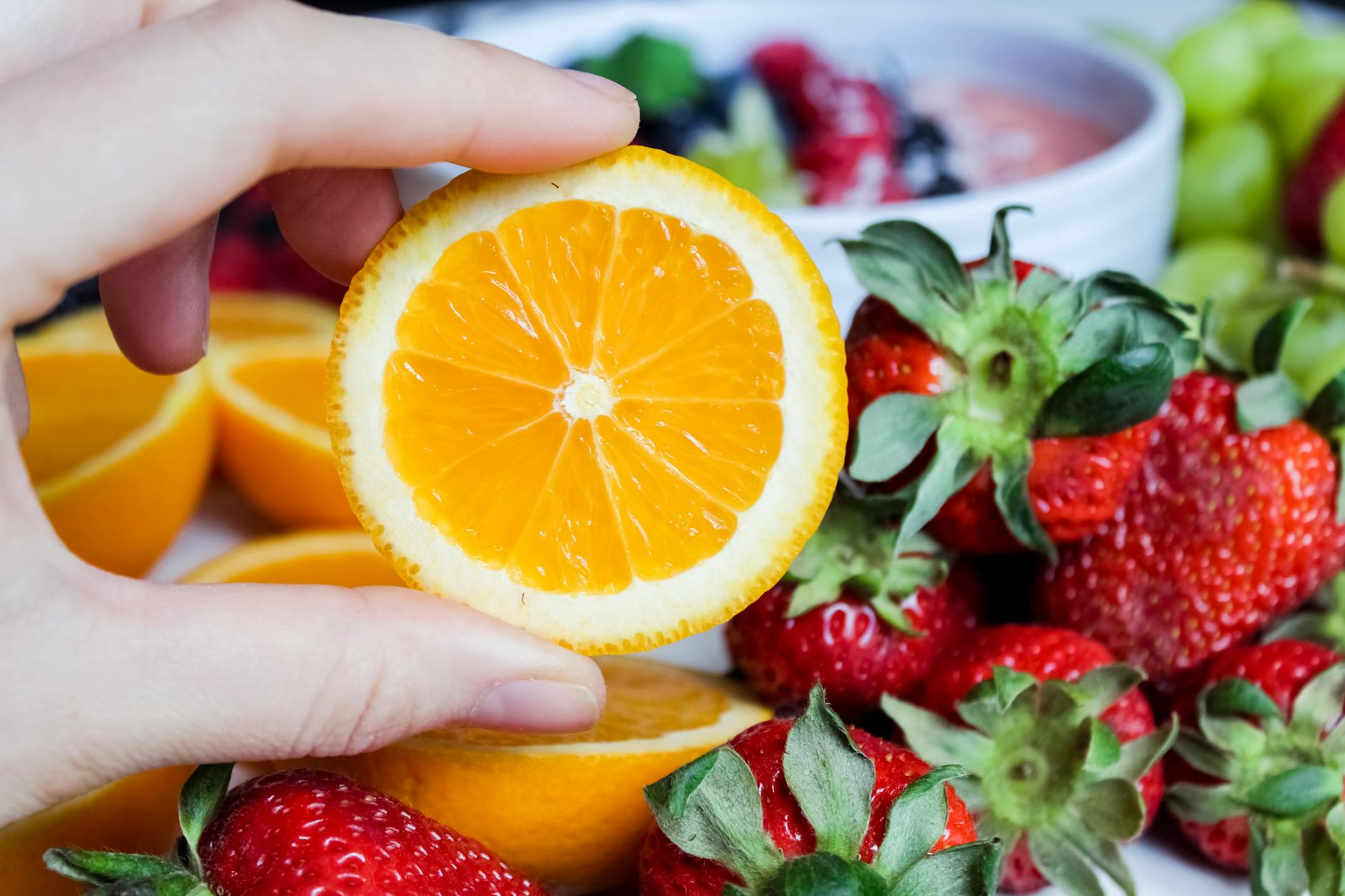 8. Papayas
Papaya's main skin-benefiting ingredient is an enzyme called Papain. It's a powerful antioxidant that speeds up cell regeneration, helping to heal wounds, and it also counters free radical damage on your skin.
9. Pineapples
Another fruit that heals wounds and is an anti-inflammatory is pineapples. The enzyme bromelain is responsible for such effects, and it also works as gentle exfoliant that gets rid of dead skin cells to reveal brighter skin. The Vitamin C in pineapples also results in lightened blemishes and clear skin.
10. Strawberries
Lat but definitely not least, strawberries can do wonders for your skin. Not only are they high in Vitamin C, but they also have salicylic acid, which is something you've seen in a lot of beauty treatments. Salicyclic acid can unclog the oiliest of pores and stop pimple formation, preventing whiteheads and blackheads.
Strawberries also have ellagic acid, which is said to protect against UV damage, as well as any further collagen damage to prevent wrinkles.
Sheena is the lead fashion writer here at Pretty Me Philippines and has contributed articles for numerous lifestyle blogs and online publications. Other than keeping up with the latest trends, she loves baking and home DIY projects.